Christmas Retreat 2019 in
GOA

/ India

with Anouk Aoun Wen­del and Danie­la Wolff
YOGA

AND

AYURVEDA
Living Anci­ent Tra­di­ti­ons adap­ted to Modern Times
December 21 to 28 2019
The Retreat
'The idea of this retre­at was born out the gra­ti­tu­de and appre­cia­ti­on both of us have for the tea­chings Yoga and India have pro­vi­ded us through our years of Sadha­na. Our inten­ti­on for this retre­at is to pro­vi­de a holistic and prac­ti­cal approach, which mer­ges this anci­ent living tra­di­ti­on with our cur­rent era'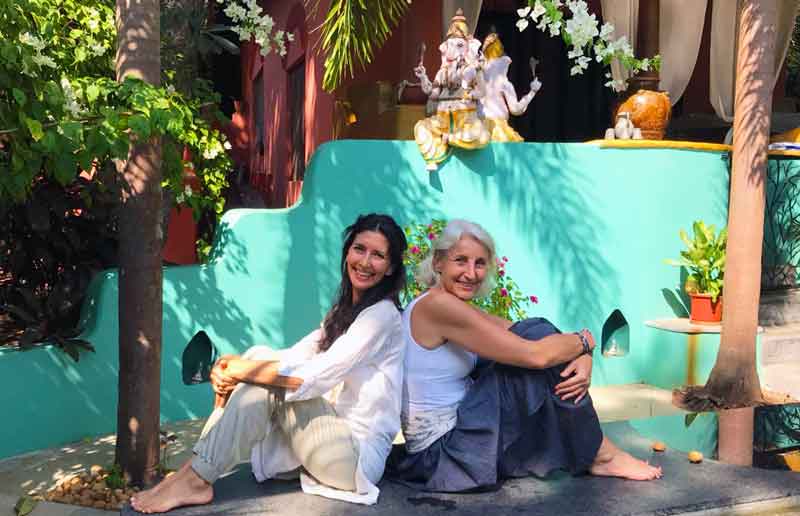 The Teachers and What They Share
Anouk Aoun Wendel
For Anouk, the Asa­na in Yoga is the­re to help us feel bet­ter wit­hin our bodies, to stir and release all the 'stuff' that we accu­mu­la­te throughout our days, to help build Pra­na or 'ener­gy' and allow it to move free­ly wit­hin our bodies, and final­ly to assist us to pre­pa­re for the deeper prac­tices of Yoga.
In the Indian Hatha Yoga tra­di­ti­on, it is often said that the breath is the link bet­ween the phy­si­cal prac­tice and the prac­tices addres­sing the mind.
In the ear­ly mornings during the retre­at, Anouk will be lea­ding you into the prac­tices of working with the breath. The­se Pra­na­ya­mas are clear­ly influ­en­cing us on a phy­sio­lo­gi­cal level and yet at the same time are con­du­ci­ve to medi­ta­ti­on.
After ear­ly morning medi­ta­ti­on and befo­re Asa­na the­re stands the prac­tice of Mou­na (noble silence). This is an inter­val to take in the rising of the day, or wri­te in your jour­nals.
Anouk's Asa­na clas­ses com­bi­ne move­ment and still­ness in a gra­cious and non-rigid way.
During some of the after­noons we will dive into res­to­ra­ti­ve prac­tices to rep­le­nish and begin to re-learn the art of sim­ply being. On other days, Anouk will give a talk about Pra­na­ya­ma and, along with Daniela's valu­able con­tri­bu­ti­on, we will explo­re how to inclu­de Yogic ide­as into our lives.
Daniela Wolff
Health begins with pro­per diges­ti­on — a strong "agni" (diges­ti­ve fire). To reap the bene­fits of healt­hy eating we must pro­per­ly digest and assi­mi­la­te the foods that we eat.
The­re­fo­re, Danie­la will talk first about the cor­ner­stones of good diges­ti­on: the use of fresh, sea­so­nal and regio­nal food, sup­por­ti­ve food com­bi­na­ti­ons, pre­pa­ring simp­le meals, fol­lo­wing the cir­ca­di­an rhythm, inte­gra­ting the healing power of spi­ces, kno­wing the '6 tas­tes', eating at the right time and in the right quan­ti­ty.
In gene­ral, we learn to inte­gra­te the Ayur­ve­dic princi­ples of eating in a prac­ti­cal way for our ever­y­day life at home, so we can begin to eat (and live) with grea­ter intel­li­gence (or com­mon sen­se). We dis­cuss rea­sons for food into­le­ran­ces and solu­ti­ons, exami­ne modern diet ide­as (vegan, paleo, keto­ge­nic, raw etc) and see, what is working for our own bel­lies.
The­re will be time to sha­re indi­vi­du­al topics in Q&A dis­cus­sions.
During some of the after­noons, Danie­la will delight us sho­wing a few simp­le yet essen­ti­al Ayur­ve­dic reci­pes in the kit­chen.
Hea­der­pict and por­traits by Nora Wen­del / the pho­to forest
An Idea of The Daily Schedule
06:00 — 07:00: Pra­na­ya­ma and medi­ta­ti­on with Anouk
07:00 — 07:30: A quiet break with Chai
07:30 — 09:30: Asa­na with Anouk
09:45 — 10:30: Bre­ak­fast
11:00 — 13:00: Lec­tu­re by Danie­la
13:30 — 14:30: Lunch
14:30 — 16:30: Res­ting time
16:30 — 18:30: Lec­tu­re by Anouk or Danie­la
18:45 — 19:30: Din­ner
(During some evenings, the­re will be an after din­ner pro­gram)
Arrival / Departure
The retre­at will start on Satur­day 21nd at 17:00 with a wel­co­me cir­cle.
The retre­at ends on Satur­day 28th at 12:00 after a clo­sing cir­cle and com­mon brunch.
For air­port trans­port plea­se direc­t­ly con­tact Satsan­ga: info@satsangaretreat.com
The Cost
The fees are Euro 950. This inclu­des accom­mo­da­ti­on, all meals, and the retre­at fees. The fees are based on twin-sha­red accom­mo­da­ti­on.
Plea­se note this retre­at is limi­ted to 10 par­ti­ci­pants only. Mini­mum is 3 par­ti­ci­pants. To secu­re a place, an advan­ce amount of Euro 200 is requi­red.
How to book
To book and for fur­ther inqui­ry, send an email to Anouk at:
Cancellation Policy
Can­cel­la­ti­on by a par­ti­ci­pant. The depo­sit pay­ment is non refund­able. If you can­cel 6 to 4 weeks befo­re arri­val — we will char­ge 50% of total cost. If you can­cel less than 4 weeks befo­re arri­val — we will char­ge 75 % of total cost. No can­cel­la­ti­on fees will be char­ged, if a repla­ce­ment is found. Chan­ge to ano­t­her retre­at by Anouk can be gran­ted in cer­tain cir­cum­s­tan­ces. We recom­mend to book a tra­vel insuran­ce to cover the unex­pec­ted.
Can­cel­la­ti­on by us. In the unli­kely event that we have to can­cel the retre­at due to a tea­cher can­cel­la­ti­on, less than the mini­mum of 3 boo­kings or other situa­ti­ons out­si­de our con­trol, we will noti­fy you as quick­ly as pos­si­ble and will refund all pay­ments done at that point. We are not to be held liable for any costs incur­red, inclu­ding air­fa­re. We recom­mend to book fle­xi­ble flight tarifs.
The Venue
Our retre­at will take place at the beau­ti­ful Satsan­ga Cent­re in Goa. We are very fami­li­ar with this venue as we have been tea­ching retre­ats the­re for the last eight years. Satsan­ga is a fami­ly-run retre­at cent­re and guest house, found bet­ween Anju­na and Mapu­sa. Wit­hin easy reach you can enjoy the beaches of the Ara­bi­an sea and still feel the authen­ti­ci­ty of Goan vil­la­ge life and the peace­ful­ness of the cent­re wit­hin.
You will expe­ri­ence a beau­ti­ful wood floo­red roof top Yoga Sha­la in the midst of trees, a swim­ming pool to relax around and tro­pi­cal gar­dens for gathe­ring as a group or res­ting solo. The kit­chen ser­ves full-body satis­fac­tion on every pla­te and in every glass, lea­ving your body buz­zing in gra­ti­tu­de.
For more infor­ma­ti­on plea­se visit its web­site: https://www.satsangaretreat.com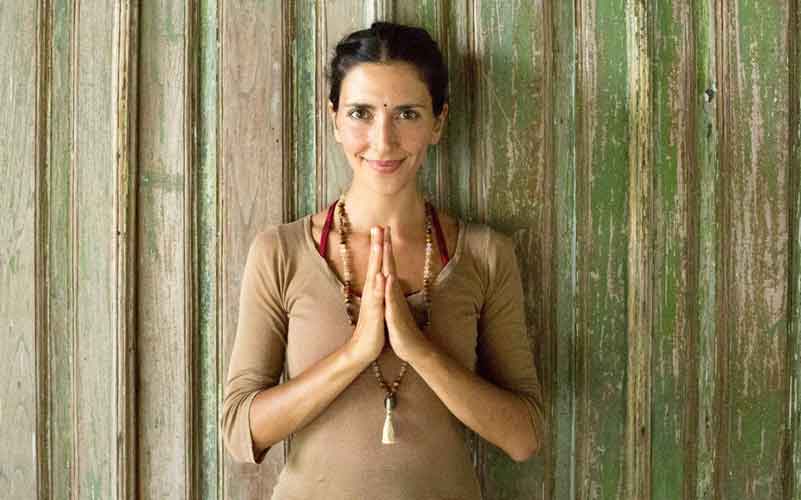 Anouk Aoun Wendel
Working with breath, move­ment and medi­ta­ti­on, the prac­tice of Yoga gives me an oppor­tu­ni­ty to dai­ly access a sen­se of sere­ni­ty, a space whe­re, when I am the­re, I am not trou­bled by the con­stant tur­nings of my mind or the limi­ta­ti­ons of my body.
My inten­ti­on as a gui­de and tea­cher is to encou­ra­ge us all to learn to be awa­ke to the pre­sent, remai­ning self-obser­vant, inqui­si­ti­ve, and kind to one ano­t­her. I find that the qua­li­ty of being joy­ous and non-dog­ma­tic along our spi­ri­tu­al jour­ney helps to cul­ti­va­te a light­ness of being.
After atten­ding my first class in 1997, Yoga soon beca­me a dai­ly prac­tice in and bey­ond its phy­si­cal aspec­ts. Over the last seven years, I have been regu­lar­ly tea­ching at tea­cher trai­ning pro­grams; in India sin­ce 2010 under the gui­d­ance of my tea­cher, Julie Mar­tin, and in Bali at Yoga Arts with Loui­sa Sear, and at Intui­ti­ve Flow with Lin­da Mada­ni.
Today, my tea­chings in Yoga are inspi­red by my heart tea­cher and hus­band Emil Wen­del.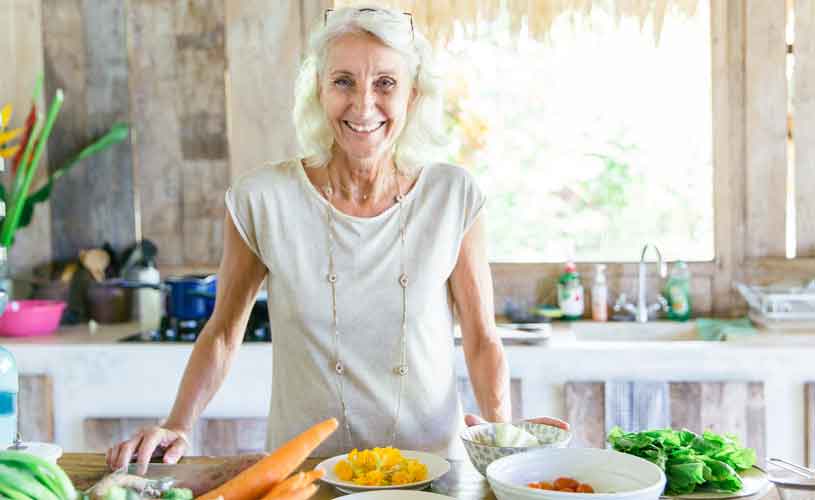 Daniela Wolff
Danie­la Wolff began her health food jour­ney in 1998 with stu­dies at the European Aca­de­my for Ayur­ve­da in Ger­ma­ny.
From 2003 until 2008 she lived in Sri Lan­ka and worked at several Ayur­ve­dic cen­tres, gui­ding the guests through their tre­at­ments, giving lec­tures and con­sul­ta­ti­ons.
From 2009 onwards she stu­di­ed in depth the chap­ters in the ori­gi­nal Ayur­ve­dic text­books about nut­ri­ti­on and health with Ayur­ve­dic Vaidyas from Kera­la.
Today she com­bi­nes our modern food cul­tu­re with this old wis­dom to a fusi­on of very prac­ti­cal gui­de­li­nes and reci­pes.
She is now based in Aus­tria, whe­re she tea­ches coo­king clas­ses, offers on-site cour­ses, con­sul­ta­ti­ons and crea­tes won­der­ful healing foods for yoga and Ayur­ve­da retre­ats.